About Jenson Travel
Below is a history of Jenson Travel.
Contact us if you wish to book a trip or excursion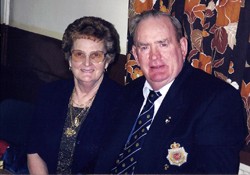 Where it all began!
We are a family run firm based in Pontypool Torfaen I (Gwyn) started the business with my father Thomas (Tom) Jenkins in 1970 hence the name Jen-son (Jenkins & Son).
We started off with two taxi's, which was so successful that we bought two mini-buses (myself, father & mother all pass our PCV), which we continue to run until 1986, due to ill health my father retired.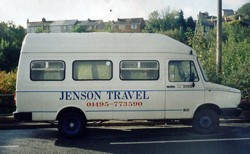 I restarted the firm in 1991, by purchasing a 16 seater Leyland Daf, due to the success I bought another vehicle.
My daughter Nicola came into the the firm 12 years ago passing her PCV, my father passed away a year later (suddenly). Nicola took her CPC exams, which she passed & took over my father's role as Transport Manager for the firm.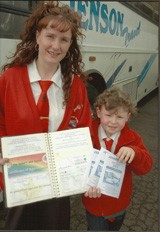 We had 2 vehicles at the time, which we ran from our home in Victoria Village. We then got our first coach & rented a unit in Abersychan.
Nicola took an active role working in the yard with myself, gaining a good understanding of the running of a transport company. Then the council decided to knock down the unit & surrounding areas, leaving us with no yard or unit to run from.
Myself & nicola fought hard to get new premises sorted out for ourselves & our drivers, by now we were employing 5 staff.
We moved to a new council unit in Pontnewynydd, which was ideal to start expanding our business, Nicola took on a new role in the office (as well & driving & building up a good passenger list).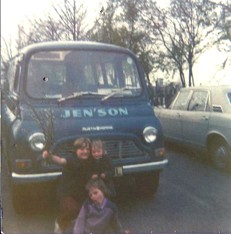 In the office Nicola would spend hours making flyers & sending them to schools & local businesses to generate business, it worked & we started getting repeat work, so we could start updating our vehicles & employing more 
staff.
Nicola then started do her own day tours, she had the idea of doing on board raffles.
At first she would buy all the prizes herself, then the passengers started donating them with the result we have now raised over £14,000 for charity.
We try to support local charities or any that are suggested by our passengers.
We have supported many charities over the years and if you would like to learn more about them, please click here.
Then in april 2006, we managed to gain a tender with Torfaen for local schools contract, suddenly we were up to 20 vehicles with 17 staff. We then moved to bigger premises in pontnewynydd with the help of the local council.
The newest member to join us is my Grandson Ryan who passed his PSV test in 2017 and has become a very proficient Coach driver